Free Comic Book: Transitions & Epilepsy
Comic Book, "Understanding Transitional Care in Epilepsy" Now Available
"Understanding Transitional Care in Epilepsy" is the 6th comic book in the "Medikidz Explain Epilepsy" series.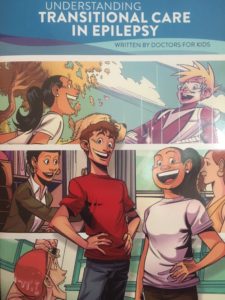 The peer-reviewed, educational comic book focuses on the transition process from pediatric to adult health care for patients living with epilepsy, and has been endorsed by the Child Neurology Foundation and the Epilepsy Foundation.
"Understanding Transitional Care in Epilepsy" features two young adults, Brian and Julia, who share their experiences with the transition from pediatric to adult epilepsy care.
Through Brian's experience with this process and, with the help of the Medikidz, Brian is able to help Julia better understand her health care journey and the importance of planning for this transition.
The CNF was happy to partner with Eisai* to develop this comic book, under the leadership of Dr. Lawrence Brown, CNF's Transitions Project Advisory Committee (TPAC) Chairperson.
A free copy of the comic book is available for download: www.advancingepilepsycare.com/medikidz
*Eisai is a member of the CNF Corporate Advisory Board