Coming from the Leukemia & Lymphoma Society, and before that the Chordoma Foundation, Breanna has established herself as a leader in the rare disease nonprofit fundraising space. She's ready to make a big impact as she starts her role as CNF's new Director of Development this month, and we hope that our community will get to know her and see firsthand why we are so excited to have her on the team.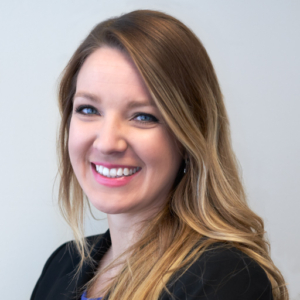 Q: Can you tell us a little bit about yourself? 
A: I've been in fundraising for 13 years, and just recently moved from North Carolina (near the Chapel Hill/Durham area) to Nashville so that we could be closer to family. Most of that time has been focused on healthcare and rare disease spaces. Most recently, I was leading a large development team at the Leukemia & Lymphoma Society, and before that was working at the Chordoma Foundation, which focuses on a rare cancer that affects about 1 person per million. That experience was a big lesson for me in creating a big impact on a small population.
Q: What drew you to the Child Neurology Foundation 
A: I've been grateful to have a number of great job opportunities come my way, but after spending so much time in the rare-disease focused space, I know this is where my heart and passion lie.  
Particularly at CNF, there's an opportunity to give a voice to a broader community across so many rare diseases and disorders. There are a lot of unique programs that CNF has in place, and I'd like to be a voice that helps people understand that disease-focused work doesn't have to be so singular, but that the initiatives we're taking on can have broader relevance in the healthcare space.  
Once I met the team, I knew this was the place for me. Everyone is so down-to-earth, and they were also understanding about my family's transition to moving to a new city, starting a toddler and baby in daycare, and the unexpected challenges that can come along with this.  
I'm thrilled to join and contribute to this team of bold and innovative thinkers, who are also genuinely good people.  
Q: What projects are you excited to jump into? 
A: I want to start by gaining a strong understanding of the structures that are currently in place. CNF has a great foundation when it comes to corporate support, and I want to continue building on this. But I'm really eager to complement this by building a strong individual giving program. I want to learn what our community is passionate about, get to know them and get engaged.  
Q: What is one thing you want to say to CNF patients and families as you get started? 
A: I want people to feel comfortable reaching out to me. My goal is to connect people who have the desire and the means to make an impact with important projects that CNF is working on, all so that we can come together and help this rare disease community as best as we can.  
Whether someone can give $1 or $1 million, it means so much that they connected with our cause, and I want to get to know everyone who is interested in making an impact, regardless of their personal ability to donate.  
Q: Favorite color? 
 A: Green 
Q: Go-to comfort food? 
 A: Macaroni and cheese 
Q: The coolest place you've traveled to? 
 A: Either the Galapagos Islands or New Zealand. If I had to pick just one, I'd say New Zealand. It's a very special place to me because it's where my husband and I got married. He is from Michigan, I'm from Texas, and we got engaged in North Carolina. After we got engaged, we immediately became tired of all the coordination that goes into planning a big wedding with family and friends from multiple states. So, we decided to elope to New Zealand! We took a two-week-long trip, spent about seven days driving, got married in the middle of the trip, and treated the rest of our time there as a honeymoon.  
Aside from that story – which is obviously very special to me – New Zealand just has a very peaceful way of life. Everyone is super friendly, and there's just a connection to nature that I felt when I was there that gave me so much peace. I would go back in a heartbeat. If I could live anywhere, it would hands-down be New Zealand 
Q: What else should we know about you? 
A: You can probably tell I have a sense of adventure, and I love connecting with people. Aside from that, I have two kids, ages 1 and 3, and I'm just enjoying everything that comes with having two little ones. As for hobbies, our family loves to be outside and hike.