2015 Infantile Spasms Heroes Award Recipient:
Dr. John Mytinger
The Ohio State University at Nationwide Children's Hospital
Dr. John Mytinger graduated from Albany Medical College in 2005.  In 2012, he completed his pediatric neurology residency, neurophysiology fellowship, and epilepsy fellowship – all performed at the University of Virginia.  In 2007, he met his first patient with infantile spasms.  Unfortunately, this child's infantile spasms diagnosis was delayed for many months.  His underlying condition and long treatment delay resulted in profound developmental regression.  His subsequent diagnosis and appropriate treatment led to the remission of his infantile spasms and developmental stabilization.  Although he subsequently made significant developmental progress following his remission, a 2015 update revealed profound intellectual and motor disability as well as intractable epilepsy with up to 120 non-infantile spasm seizures per day.  The consequences of the delayed diagnosis to the patient and his family had a profound impact on Dr. Mytinger's career.  For the remainder of his training, Dr. Mytinger sought out patients with infantile spasms and coordinated their care with the goal of improving outcomes and providing a local clinician resource for caregivers.
After finishing his training in 2012, Dr. Mytinger accepted a position with The Ohio State University at Nationwide Children's Hospital.  His plan was to create a multidisciplinary Infantile Spasms Program in an effort to improve patient outcomes and provide a framework to support caregivers.  Dr. Mytinger is the Director of the Infantile Spasms Program.  Since 2012, children with infantile spasms presenting to Nationwide Children's Hospital are referred to the Infantile Spasms Program and treated with a standardized management guideline.  This program emphasizes early diagnosis and treatment, the use of first-line therapy, early changes in therapy if needed, and diligent clinical and electroencephalogram follow up to ensure the best possible developmental and seizure outcomes for each child.  There are numerous contributors to the program who all play a critical role.  The team includes nurses, nurse practitioners, a developmental psychologist, a pharmacist specializing in pediatric epilepsy, child neurology residents, child neurology attendings, and others.  He and his team have shown that the Infantile Spasms Program has improved the rate of infantile spasms remission at Nationwide Children's Hospital.  To learn more about Dr. Mytinger's approach to infantile spasms, listen to him speak on-line (skip to 7 minutes into the broadcast): http://traffic.libsyn.com/pediacast/pediacast_281.mp3
Dr. Mytinger was nominated by not one but two families for his outstanding care of their children.
-My Little One was diagnosed with West Syndrome (Infantile Spasms) in January 2014. His symptoms started with 3-4 clusters of what looked like a let down, and his pupils would dilate. Thank God that Dr. Mytinger was at Children's because my son was first diagnosed with focal partial seizures, and Dr. Mytinger came on to the team, looked over the EEG, saw the spasms, and diagnosed IS. He started treatment right away. He came into our room, sat down, and gave us this horrible diagnosis with such compassion! He stayed on top of everything. He would call us at home from his home to check in and to see how our son was and how treatment was going. He never waited long if treatment was working to switch to another. He expressed the urgency of getting the spasms under control in order to have the best outcome! After every EEG he would take us into his office and go over everything, showing us past and present EEG's. He felt like part of the family. I felt like our son was his only patient when I knew that he wasn't. He was a very busy man but made our family and every family dealing with IS important. His fight saved my son. He never stopped searching for the next treatment. We are very grateful to him for giving us back our son!!! My son is thriving today! He just turned two and he is the cutest happiest little boy in the world. He is working on walking and changing and becoming stronger every day! He is a true fighter! We are thankful to Dr. Mytinger for giving us back our hero!

-My son was diagnosed the week he turned 5 months old. He had the "typical" spasms and a loss of some personality. Within a week of first seeing a spasm, we went to Children's Hospital ER and received an EEG. Initially misdiagnosed, given Keppra, and told we would be released in the morning. Thankfully, Dr. Mytinger saw the EEG and came and told us our son had IS. We went through all the standard tests the next day and started ACTH before leaving the hospital. We relapsed a month after the wean, immediately started Sabril, and have been seizure free since. Today at two, our son is in the low end of average. We still have a delay in expressive speech, but he is making gains weekly. To someone who doesn't know his diagnosis, he seems like a neuro-typical toddler.

If it wasn't for Dr. Mytinger, I don't know what my son's outcome would have been. We would have lost valuable time on a medication that is not a treatment for IS. He started an IS clinic at our hospital; and, without it, we would be driving 4 or more hours to another clinic for treatment. Other than fast, accurate care in our son's case, he has dedicated time outside of the normal day to treat patients. When we relapsed, we went to the hospital at night, and he read the EEG at home, called us, and walked us through starting Sabril. He was even off  work for medical reasons but continued reading EEGs from home and coordinating with his staff to continue giving his patients the level of care they deserve. I have yet to encounter another medical professional so willingly to give their patients the same level of care.
2014 Infantile Spasms Heroes Award Winner: Elizabeth A. Thiele, M.D., Ph.D.
Dr. Thiele is a pediatric neurologist/epileptologist and Director of both the Pediatric Epilepsy Program and The Carol and James Herscot Center for Children and Adults with Tuberous Sclerosis Complex at Massachusetts General Hospital in Boston.  She is also an Associate Professor in Neurology at Harvard Medical School. Here is her nomination story:
Our daughter was diagnosed with Infantile Spasms just a few months after being diagnosed with Tuberous Sclerosis Complex. The spasms were definitely different from her other seizures. She was having sudden outward jerking movements with her arms and legs. They began increasing in frequency and clustering, especially after waking from a nap. So we videotaped them and brought to our local neurologist who thought they were some type of seizure pattern but not sure what. He ordered an EEG, but it wouldn't be able to happen for 2 to 3 months. In the meantime, we had made an appointment with Dr. Thiele at the MGH TS Clinic. We brought the video with us to our first appointment with, and she suspected IS. She then admitted us to MGH for an overnight video EEG, which confirmed her suspicions. She gave us a prescription for Vigabatrin, which we started right away. I can't imagine how different our child's life might be today if it weren't for Dr. Thiele's immediate diagnosis and her recommendation that we use Vigabatrin. Dr. Thiele always takes the time to answer questions and explains things so well. I remember her coming to the hospital room (where we had video EEG) and talking about Vigabatrin, the potential side effects, and about IS in general. When I asked what she would do if it were her child, she didn't hesitate and said she'd start the Vigabatrin. You know she has your child's best interests in her heart and mind. She's so dedicated to her work and to all of our TS children. We feel so fortunate that we found her clinic (thanks to TS Alliance) and had her on our team almost from the start of our journey with TS. Our daughter's life would almost certainly be different if we had not found Dr. Thiele.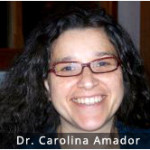 2013 Infantile Spasms Heroes Award Winner: Dr. Carolina Amador
Dr. Amador is a pediatrician at Lincoln Health Center in Corvallis, Oregon. Here is her nomination story:
Dr. Carolina Amador sets the bar for what we need from pediatricians when treating Infantile Spasms. When I called her office and described what my daughter was doing, she made time to get her in for an appointment within 24 hours. When shown the home video of my daughter's spasms, she recognized right away that this was a neurologic event and immediately ordered an EEG. She mentioned that she suspected Infantile Spasms but knew that it should be confirmed. After a 2-hour inconclusive EEG and a 24-hour EEG that captured a spasm event, we were told by the specialist at our regional children's hospital that my daughter DID NOT have Infantile Spasms. Dr. Amador traveled 2 hours to the hospital to see us on a Sunday and encouraged us to stay until we could get a second opinion. Only after staying an additional night and meeting with the head child neurologist at the hospital did my daughter receive her correct diagnosis. My daughter went seven days from her first spasm to the diagnosis and control of them. This is unprecedented and a major factor for why my daughter is doing so well today. If Dr. Amador had not done what she did to facilitate the immediate testing and if she had not encouraged us to stay for a second opinion, there is truly no telling how long we would have waited for a correct diagnosis and how much damage would have been done. Dr. Amador is a true hero to us and, in our house, her name is spoken with reverence.
2012 Infantile Spasms Heroes Award Winner: Dr. Ali Mostajelean
Dr. Mostajelean is a pediatric neurologist in the Epilepsy Department at Children's Hospital Oakland. Here is his nomination story:
Felix was first diagnosed with IS approximately 2.5 weeks after we noticed a change in his behavior. He began to cry unexpectedly, and it seemed it was being caused by pain at first. We took him to the pediatrician and were told to look out for stereotypical behavior. We continued to monitor him throughout that week and his episodes and spasms continued to escalate. On the following Monday, we took him back to the pediatrician, as I knew there was something really wrong. The pediatrician was very skeptical about our concerns. However, Felix had an episode right there in the doctor's office. He was convinced at that point; and on that Thursday, Felix had an EEG that diagnosed Infantile Spasms. The following Wednesday, Felix was put on a course of ACTH injections – high dose for 2 weeks; then a wean for the next 4 weeks. He also had an MRI to ensure that there were no structural reasons for the spasms as well as metabolic tests. All came back normal. After his ACTH, another EEG brought great news: the hypsarryhthmia was completely gone and his prognosis was great. We will never know why Felix started getting the spasms, but we are truly ecstatic that he seems to be clear with no current indications of developmental issues. Thanks to websites like this, I was able to see the signs in Felix, act quickly, and push for fast diagnosis and treatment (something I knew was imperative for as good an outcome as possible). Felix was seen by Dr. Ali Mostajelean at Children's Hospital in Oakland, CA. It is clear that he has a very solid and advanced expertise in the most recent methods of treating IS (he studied under Wendy Mitchell at Los Angeles Children's hospital). I consider him a hero because he really explained everything to us regarding the potential outcomes and the reasons behind his method of treatment (early and aggressive). For parents whose baby is otherwise completely healthy, it can be easy to dismiss the need for such an aggressive treatment, thinking they may be doing more harm than good. However, Dr. Mostajelean made it very clear what could happen if we did not start treatment immediately and was excellent at explaining the underlying and potential reasons for the disorder. On top of that, when things looked positive, he made sure to give us hope and strength. He once said, "This is the best I have seen a child look with this condition," after he diagnosed Felix. This gave us great hope that Felix could potentially beat this and come through okay. Dr. Mostajelean was thorough and compassionate yet direct, supportive, and positive. I would recommend him to any family going through this heartbreaking experience.
2011 Infantile Spasms Heroes Award Winner: Dr. Harry Chugani, M.D.
Dr. Chugani is Professor and Chief, Division of Pediatric Neurology and the Rosalie and Bruce Rosen Endowed Chair in Neurology at Children's Hospital of Michigan, Wayne State University in Detroit, Michigan, USA. He is also the Director of the Positron Imaging Center in the Detroit Medical Center and runs the Epilepsy Surgery program.
Video: 2011 IS Heroes Award Winner: Dr. Harry Chugani
Here is his nomination story:
My son Benjamin was born a healthy full-term baby. He had a gorgeous smile and a wonderful little personality. This all changed suddenly when he began having seizures at six months old. I noticed him nodding off to sleep in his high chair as we ate dinner one night. I dismissed it as typical behavior considering he didn't have a very long nap that day. My husband and I knew something was wrong the next morning though when he did it again at breakfast. My baby was having seizures, and I was terrified. I immediately took him to the pediatrician's office that morning. Our pediatrician was great and without scaring us too much, had us take Ben to a pediatric neurologist that day to be examined. He had a 24-hour portable EEG that started that night, and it took a week to get the results back with a diagnosis. I called every day to see if the results were in. He began having 15-20 clusters of seizures a day. He was diagnosed with cryptogenic IS after his labs and MRI came back normal and started on Depakote. He became lethargic and stopped smiling or making eye contact. He regressed from an advanced 6 month old to a newborn. He was no longer the vibrant little boy we knew and loved. We became frustrated with his initial neurologist's unwillingness to try the treatments we had read about as we researched his condition. We were also unhappy that his condition was not treated as an emergency by this neurologist, when everything we read indicated it was indeed an emergency. We sought out a second opinion and got the ball rolling with a doctor very familiar with IS, Dr. Chugani. Ben failed Depakote and Vigabatrin. His prognosis was looking pretty grim considering he had already failed two meds and had been seizing relentlessly for almost three months. His regression was alarming. He stopped using his hands and just laid there listlessly. We then moved onto ACTH injections once Ben was maxed out on Vigabatrin. The ACTH injections were nothing short of a miracle in our eyes. After the first injection, a brightness returned to his eyes that we hadn't seen for what seemed like an eternity. He began the injections on Halloween, and had his last seizure on November 6. He continued with the injections for 6 weeks. He started to smile again and slowly began to use his hands. We felt like we had been given our baby back. He has had normal EEGs and normal developmental progression since the seizure activity stopped.
Today, Ben is a typical (although we say exceptional in our eyes) two year old boy. He picks fights with his older brother; he plays at the park; he runs and climbs. He talks up a storm. He loves to play with cars and likes when we read stories to him. He loves to snuggle and gives great hugs. He has graduated from his four days a week regimen of Physical Therapy and Occupational Therapy. He receives services two days a week for speech but is quickly catching up to age-appropriate language utilization. He is a joy, and I am grateful every day that we found a knowledgeable and devoted pediatric neurologist when we did. I try not to think about it, but our window could have been very narrow. If it was not for Dr. Chugani and his willingness to listen to us and help our son so quickly, Ben might not be flourishing the way he is today.
I remember being so desperate to find a physician that would treat my son's condition appropriately. My son Benjamin had been having 15-20 clusters of seizures a day for about a month and the neurologist we were seeing was not willing to start our son on the frontline meds that I had read about. I scoured the internet trying to figure out where I should take my son to get him the help he needed. In researching potential hospitals and physicians, I discovered a neurologist referred to as "Dr. Rockstar" in a couple of online blogs. I decided that we should check this doctor out, with a nickname like rockstar he had to be great. I discovered that this neurologist was a Dr. Harry Chugani at Children's Hospital of Michigan. Being that it was the weekend, I decided to send an email, mostly to make myself feel better, until the office was open on Monday. I did not expect a reply to my email, but I received a reply an hour or two later. Dr. Chugani connected us with a nurse practitioner, arranged an appointment for us with his colleague, and made sure we had the correct information sent over from our son's neurologist. He did all of this from the airport lounge on the weekend en route to a speaking engagement. This is just one small example of Dr. Chugani's commitment to his patients. Dr. Chugani is well known and loved in the IS community and shows this level of commitment to all parents that seek his help. He is always available and always approachable (I often wonder if he ever sleeps or takes a real vacation!). He is up front and honest and does not make false promises. He takes the time to educate and empower parents to advocate for their children meaningfully. His office is always full, but he never rushes you out of an appointment. He has conducted research, petitioned to gain FDA approval for drugs that provide a means of stopping the seizures that our children suffer with day in and day out, and has written numerous publications focused on epilepsy and IS. He has assembled a team of professionals that truly work to ensure that your child has access to any and all treatments that might help your child. He is truly devoted to his patients and to improving outcomes for all children that suffer from infantile spasms and childhood epilepsy.
Benjamin has been seizure free just short of two years now. He runs, laughs, climbs on the kitchen counter, talks up a storm, plays with his older brother, and gives some of the best hugs and kisses. I owe this miracle to the dedication, devotion, and knowledge of Dr. Harry Chugani. He embodies all that an IS Hero is and should be. Dr. Chugani is truly a champion for the cause, and my family will be forever grateful for the time, caring, and compassion he has shown us.
2010 Infantile Spasms Heroes Award Winner: Dr. Jong Rho
The inaugural recipient of the Infantile Spasms Heroes Award was Dr. Jong Rho of the Barrow Neurologic Institute of Phoenix.
Here is his nomination story:
It is with great pleasure that our family be given the opportunity to nominate an IS Hero. As a parent/advocate we feel it's so important to recognize the individuals and organizations that go above and beyond expectations. Dr Jong Rho and Barrow are just that team.  It is without question that Dr Jong Rho is the main reason why Logan is where he is today. Dr Rho spent countless hours educating us; he gave us same day responses to our urgent questions; he was committed to us even after hours; and he was willing to assure Logan received the best care possible regardless of standard protocol. We are also so thankful of Dr. Rho's calm, kind, and straightforward bedside manner, his knowledge of Infantile Spasms, his putting up with our neurotic line of questioning, and his continued care and concern for our son and our family. With every great clinician, is an organization that supports him or her. The Pediatric Neurology Division of the Barrow Neurologic Institute of Phoenix is that place. Having had many opportunities to utilize their services and staff, we can't thank them enough for their passion and understanding during our difficult time. We are forever grateful to Dr. Rho and Barrow for working with all of Logan's challenges and providing a place of comfort and support for our family. 
Dr. Rho is currently the head of Pediatric Neurology at Alberta Children's Hospital in Alberta, Canada.