Amy Brin, MSN, MA, PCNS-BC
 

 – Executive Director & CEO

Amy E. Brin, MSN, MA, PCNS-BC, has been working on behalf of children/youth living with special needs and their families for over two decades. Since 2015 Brin has been serving as the Executive Director and CEO of the Child Neurology Foundation, whose mission is to serve as a collaborative center of education and support for caregivers and their children with neurologic conditions and facilitate connection with medical professionals who care for them. Through her leadership, CNF has experienced consistent and unprecedented growth in strategic partnerships, programming, and overall operations.

Prior to joining CNF, Brin led the development and provision of care in various tertiary, ambulatory and community-based pediatric and perinatal palliative and hospice programs. She served as a national consultant, building systems of care for children and youth living with special healthcare needs, with a specific focus on program development for complex, chronic care models of service. Brin's specialization is in pediatrics, medical home core components, hospice and palliative medicine throughout the care continuum, home health, transitions of care, care coordination and case management. Brin is a Board-certified pediatric advanced practice nurse.

Throughout Brin's career, she has interwoven both her hands-on clinical expertise and her executive experience, always with the goal of improving the lives of children and their families. Her success is built on her innate ability to form trusted and collaborative partnerships, take calculated strategic risks, and her belief in personal transparency and candid conversations.

Brin is a published author, award winning speaker, and trusted convener, which has earned her international recognition as a recipient of the Platinum Facilitation Impact Award (International Facilitators Association), as well as being elected Chair of the Epilepsy Leadership Council (a consortium of nearly 60 epilepsy advocates advancing a collaborative research and policy agenda) – and in 2022, Brin was nominated to the NIH- National Advisory Committee on Neurologic Disorders and Stroke. Brin is a Key Opinion Leader within the neurology community and is routinely asked to engage in cross-cutting national dialogue on topics such as access to critical therapies, regulatory process reform, patient-centricity within clinical care, and various 'resets' emerging in a post-COVID world, including telehealth and a return to school for children/ youth with special health care needs.

And, if you asked Amy what is most important, she'd most likely convey her strong belief that there's never a bad time to eat pizza, that creating a better tomorrow for all children is a shared responsibility for this world… and that her greatest treasures in this life are her sons, Ari and Roman.
Allyson Eyermann – Director of Operations
Allyson supports daily operations to ensure the achievement of the organization's strategic goals and objectives in alignment with the mission of CNF. She has a diverse background in administration in the corporate, education/research and non-profit sectors, joining CNF from the University of Kentucky College of Pharmacy Research Office. Allyson resides in Lexington, Kentucky with her husband, Jason, their son, Leo, and dog, Noble. Allyson resolutely believes that the best things in life are not things. Her love for her own family drives her professionally and passionately to serve the patients and families in the child neurology community.
Amanda Bockelman – Executive Administrative Assistant
Amanda Bockelman joins us from Frontier Nursing University where she was Executive Assistant to the President for over 4 years. For 5 years prior to this role, Amanda credentialed students at clinical sites, making it possible for them to complete their degrees. Amanda received her bachelor's degree in Art History from the University of Kentucky, after also completing courses at the University of Massachusetts Amherst.  More recently, Amanda completed her PACE certification (Professional Administrative Certification of Excellence), which increased her knowledge, expertise, and skill set in the evolving business environment, while expanding her aptitude for administrative work. Amanda found her calling of wanting to make a difference in children's lives who are battling diseases when a teammate of her son was diagnosed with stage 4 lymphoma. She raised money for the family so they could take the time off work they needed to care for him. Accepting a position at CNF continues Amanda's drive to help children achieve their best lives.
Amanda is a proud mom to a six-year-old daughter, Adrianna, and a thirteen-year-old son, Vincent. In Amanda's own words, her kids "drive me to work hard to make their lives better each day."
Brea McCormley, MBA – Director of Development
Brea brings more than 13 years of nonprofit development experience to the Child Neurology Foundation team. During the course of her career, Brea has raised more than $50M for some of the largest and most innovative disease-focused nonprofits in the country. Prior to joining CNF, Brea led a team of 12 fundraisers at the Leukemia & Lymphoma Society to achieve record setting revenue targets exceeding $11M. At the Chordoma Foundation, she doubled the organization's revenue budget from $2.5M to $5M within 3 years. As incoming Director of Development for CNF, Brea is excited to inspire philanthropists across the country to help us create a world in which all children affected by neurologic disorders reach their full potential.
Brea holds an MBA from North Carolina State University and a BA in Communication Studies from the University of North Texas. She resides in a suburb of Nashville, TN with her husband, two kids, and dog.
Cyndi Wright – Program Manager
Cyndi is a passionate advocate for children with neurologic disorders. In addition to consulting for CNF, she is trained as a special education advocate. Cyndi enjoys positions that capitalize on her ability to convert complex challenges into succinct and effective solutions. She loves the collaborative spirit at CNF and sees the tremendous gains for our community when organizations and individuals work together to drive positive change.  Recent positions include managing the CNF SUDEP Education Initiative and the Epilepsy Foundation SUDEP Institute Director.  She also services as the Special Education District Advisory Committee Chair for her school district and and serves on the Resource Parent Council and Community Advisory Committee for her county.  When Cyndi is not managing programs or supporting her school community, you can find her outdoors in the mountains with her husband, two sons and two dogs.
Hilary Pellegrin – Staff Accountant
Hilary has a long and diverse history of non-profit work – spanning from her volunteer work at a local food bank in high school, to serving as a Team Leader for the AmeriCorps NCCC program, to her recent work at the library consortium Amigos Library Services. She brings with her to CNF a deep passion for assisting communities on the local and national levels, believing strongly in the power of connections and in working together to find solutions to the challenges facing the child neurology community. Hilary currently resides in St. Louis, Missouri with her partner Robert and their three cats. While away from home, you'll find Hilary swing dancing around town or training for her next 5k.
Jane Baldwin – Development Coordinator
Jane joins CNF with a background in higher education, having worked in international development, student programming, and academic advising at Indiana University and the University of Kentucky. She moved to Lexington after two years in Singapore, where she volunteered on a helpline with the Association of Women for Action and Research, the country's leading NGO focused on women's rights and gender equity. Jane holds an MPA from Indiana University's O'Neill School of Public and Environmental Affairs with concentrations in Public Financial Administration and Policy Analysis. Outside of work, she is an avid runner, baker, and traveler.
Jessica Nickrand, PhD – Senior Manager, Programs
Jessica was drawn to CNF because of her passion for patient advocacy, and her belief that health care can be at its best when patients are empowered to be their own advocate. At the Foundation, she supports programs that aid the transition from pediatric to adult neurology, and that work with families to navigate telehealth. Before coming to CNF, she worked at the American Academy of Neurology delivering provider education, the Reilly Center for Science, Technology, and Values at the University of Notre Dame as a research director, and the National Academies of Sciences, Engineering, and Medicine supporting the efforts of the National Roundtable on Population Health Improvement. Jessica holds a PhD from the University of Minnesota in the History of Science, Technology, and Medicine, and a BA from Michigan State University in Social Relations and Policy with a specialization in Science and Health Policy.
Katie Hentges – Director, Programs
Katie started with the Child Neurology Foundation in early 2019 helping manage all of our program priorities. Previous to CNF she worked for the American Academy of Neurology in the health policy department running operations for the Axon Registry, the largest neurologic specific clinical data registry in the world. She strongly believes in CNF's values, particularly collaboration and stewardship. She understands that going together always gets you farther than going it alone both internal to CNF and externally with the broader child neurology community. When she's not working you'll find her testing out new recipes with her husband, spending time at the lake, or scrolling through puppy photos online.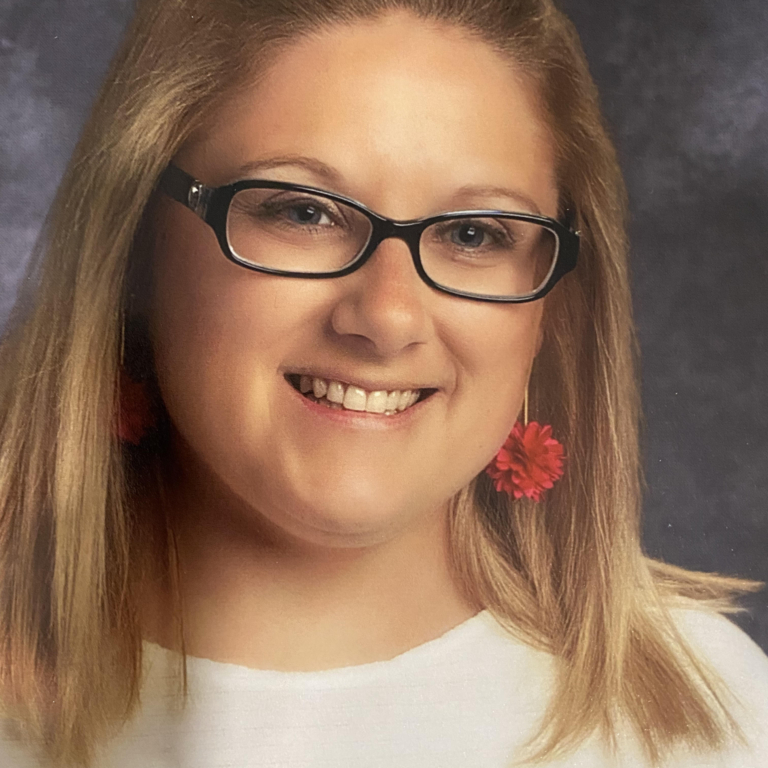 Kim Hindery – Program Manager
Kim graduated from St. Louis University with dual degrees in Early Childhood Education and Early Childhood Special Education. She later went on to pursue a Masters in Administration from Xavier University. For the last 16 years, Kim has taught children with varying needs and has worked to help families and children reach their fullest potentials. In 2019, Kim helped develop the parent council on a phase 3 clinical trial, called I-ACQUIRE. There, she is still working together with clinicians and researchers to improve family centeredness, ensure materials are sensitive and respectful, and assist with recruitment and retention procedures. Kim was drawn to CNF's ability to adapt to the world around them and provide support for communities. Kim believes that every moment in life is an opportunity to do better for others. When she is not living out this philosophy, she is reading for learning and for enjoyment, volunteering on the Parent-Teacher Organization for her daughters' school, or spending time with family and friends.
Lindsey Taveren, MBA – Director of Accounting, Finance, and Technology
Lindsey joined the team in 2021 and brings with her more than ten years of non-profit industry experience, ranging across financial management, project management, and event coordination. Driven by the Foundation's mission, she takes pride in providing to the public the best governance and financial transparency possible. Prior to joining the Foundation, she worked for the American Academy of Neurology, where she was a Senior Accountant to the American Brain Foundation and the United Council for Neurologic Subspecialties. Lindsey holds an MBA from the University of St. Thomas Opus College of Business, and currently resides in Minneapolis, Minnesota. When she's not keeping busy with her family and two dogs, you'll find her trying to bake something she saw on the Great British Baking Show.
Nathan Jones – Marketing Manager
Nathan's diagnosis of epilepsy at 18 sparked his lifelong commitment to understanding and supporting individuals, families, and communities living with epilepsy. After producing a short film about his experience, Nathan began volunteering for the Epilepsy Foundation of Los Angeles and was eventually hired as a program coordinator, marketer, and development officer, focused on building community.
Nathan's contributions to the Epilepsy Foundation of Los Angeles include leading the team captain program for the annual Walk to End Epilepsy, creating the Big Brain Exhibit as an educational tool for schools and events and producing thirteen short documentary films highlighting success stories from EFLA's Care & Cure Institute. Currently, Nathan also serves on the Board of Directors for the Hidden Truths Project and the Hundley Foundation.
As a passionate storyteller and advocate, Nathan is eager to apply his skills and experience to the role of Marketing Manager at the Child Neurology Foundation.
Nyechi Oleka – Program Coordinator
Nyechi Oleka is a recent addition to the Child Neurology Foundation as a Program Coordinator. She has over ten years of experience in relationship management and community engagement. Her prior experience includes working for Disability Determination Services as a disability adjudicator, and before that, a mental health community support professional with Seven Counties Services. Nyechi holds a bachelor's degree in Psychology from Kentucky State University, and a Master of Science degree in Conflict Management from Sullivan University.
Nyechi is also the Creative and Event Chair of Sneaker Ball Lex: A KOTD Affair, a fundraising event in Lexington, and Founder of the Sneakers With Everything Project non-profit organization.
Paul Cooper – Convening & Facilitating Methodologist
Paul has devoted his 25-year consulting career to helping clients improve collaboration and internal communication. He helps groups build new awareness and mobilize energy for change as a facilitator, executive coach, organizational development consultant, and qualitative researcher. His book, Change Agent Nation: Create Change in Your Neighborhood…or Across the World was published in 2019 and is available on Amazon.
---
Contact Us
Child Neurology Foundation
601 W. Short Street
Lexington, KY 40508
[email protected]
888.417.3435