Amy Brin – Executive Director & CEO
Amy Brin has been working on behalf of children with special needs and their families for nearly two decades. Throughout her career, she has enjoyed marrying her clinical and executive experience in working to improve the lives of children and their families. Her success has been built on the strong ability to form trusted and collaborative partnerships, strategic risk-taking, and personal transparency. Brin was named Executive Director of CNF in 2015; under which, it has experienced unprecedented growth in strategic partnerships, programming, and overall operations.
Prior to joining CNF, Brin led the development of and provision of care in various tertiary, ambulatory and community-based pediatric and perinatal palliative and hospice programs. She has served as a national consultant regarding building systems of care for children and youth living with special healthcare needs, with specific interest in program development for complex, chronic care models of service. Brin's specialization is in pediatrics, medical home core components, hospice and palliative medicine throughout the care continuum, home health, transitions of care, care coordination and case management. She is a published author, and award-winning speaker. Brin is a Board-certified pediatric advanced practice nurse.
And if you asked Amy what she thinks are important topics to know about her, she'd most likely convey her strong belief that the bottom of a potato chip bag comes far too quickly, creating a better tomorrow for all children is a shared responsibility for this world, and her greatest treasures in this life are her sons, Ari and Roman.
Greta Pittard – Chief Operations Officer
With over 20 years of experience in operations in media and start-up environments, Greta Pittard joined The Child Neurology Foundation from Wrigley Media Group, where she was SVP of Production. Prior to this, Greta served as VP of Content at StoryBlocks (formerly VideoBlocks), where she played a pivotal role overseeing content strategy and operations across StoryBlocks.com and its sister sites, AudioBlocks.com and GraphicStock.com. Prior to VideoBlocks, Greta served as Head of Company Operations Summit Series and was among the first six employees of the Smithsonian Channel (Showtime), where she worked for over seven years as Director of Production Management.
Greta graduated from St. John's College in Annapolis, Maryland with a double major in Philosophy and the History of Mathematics and Science, and a double minor in Comparative Literature and Classical Studies. She was awarded the CBS "Share the Vision" Award for high-performers and leadership and has been a panel speaker at numerous media events including DMLA (Digital Media Licensor's Association), and the CEPIC Congress Seminar (Coordination of European Picture Agencies Stock, Press and Heritage).
Loren Wood – VP, Advancement
Loren is focused on all things growth at Child Neurology Foundation, heading up our advancement team, which includes our development, marketing and communication efforts. For nearly 15 years, he has leveraged skills in marketing, communication and development to help organizations both large and small achieve their mission, across various industries, including the arts, education, healthcare and human services.  More than a marketer, most recently Loren has been tackling wicked social issues leveraging expertise in community-led development, human-centered design and Scrum, as part of the Community Innovation Lab at University of Kentucky and helping nonprofit organizations scale their social impact as a co-founder and consultant at Impaktfel.
Loren currently resides in Lexington, KY, having recently moved from Chicago with his fiancé Rong in 2019. Outside work, he loves the great outdoors (camping, cycling, hiking), runs a philanthropic dining club, and advocates for a more livable Lexington. He is a proud graduate of Syracuse University.
Katie Hentges – Director, Programs
Katie started with the Child Neurology Foundation in early 2019 helping manage all of our program priorities. Previous to CNF she worked for the American Academy of Neurology in the health policy department running operations for the Axon Registry, the largest neurologic specific clinical data registry in the world. She strongly believes in CNF's values, particularly collaboration and stewardship. She understands that going together always gets you farther than going it alone both internal to CNF and externally with the broader child neurology community. When she's not working you'll find her testing out new recipes with her husband, spending time at the lake, or scrolling through puppy photos online.
Allyson Eyermann – Operations Manager
Allyson supports daily operations to ensure the achievement of the organization's strategic goals and objectives in alignment with the mission of CNF. She has a diverse background in administration in the corporate, education/research and non-profit sectors, joining CNF from the University of Kentucky College of Pharmacy Research Office. Allyson resides in Lexington, Kentucky with her husband, Jason, their son, Leo, and dog, Noble. Allyson resolutely believes that the best things in life are not things. Her love for her own family drives her professionally and passionately to serve the patients and families in the child neurology community.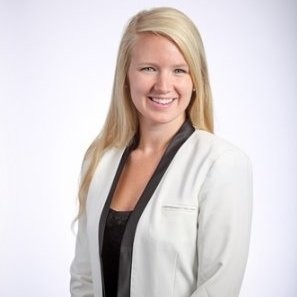 Anne Frederick – Executive Administrative Assistant
Anne recently relocated from Grand Rapids, Michigan to Lexington, Kentucky. As the Executive Administrative Assistant, her primary role is to support the CNF Board of Directors, Corporate Advisory Board, and CNF CEO Amy Brin.
Previous to CNF, Anne worked for RDV Corporation/Ottawa Avenue Private Capital, holding a myriad of positions over her nearly six years working there.  Anne's most recent position was the Compliance and Legal Coordinator, where she served to support the legal function delivering services to the OAPC Investment Group, and worked with the Compliance Team to help administer and manage the firm's regulatory compliance program.
Anne cherishes relationships and community, valuing every memory she can make with family (and she absolutely cannot get enough of her adorable niece and nephew!). She enjoys being active – whether that's working out at the gym, out in nature, or in the garage with her husband – and is a not-so-proud cat momma who rescued a tiny, 4-week-old fur ball of a kitten nearly seven years ago.
Jessica Nickrand – Program Manager
Jessica was drawn to CNF because of her passion for patient advocacy, and her belief that health care can be at its best when patients are empowered to be their own advocate. At the Foundation, she supports programs that aid the transition from pediatric to adult neurology, and that work with families to navigate telehealth. Before coming to CNF, she worked at the American Academy of Neurology delivering provider education, the Reilly Center for Science, Technology, and Values at the University of Notre Dame as a research director, and the National Academies of Sciences, Engineering, and Medicine supporting the efforts of the National Roundtable on Population Health Improvement. Jessica holds a PhD from the University of Minnesota in the History of Science, Technology, and Medicine, and a BA from Michigan State University in Social Relations and Policy with a specialization in Science and Health Policy.
Nicky Young – Program Manager
Nicky is based in Lexington, Kentucky and previous to CNF she came from a health insurance company working as a Project Manager where she led pilot programs across 8 states to integrate social services and healthcare with community partners. She has strong experience with managing projects, building community partnerships, and creating patient education all with a background in public health. She has always had a passion for helping those that face tremendous adversity and hopes to fulfill that passion by creating effective and sustainable programs for children and families at CNF. When she's not working, you'll find her doing yoga, exploring a new trail, or spending quality time with her husband and dachshund.
Cyndi Wright – Program Manager
Cyndi is a passionate advocate for children with neurologic disorders. In addition to consulting for CNF, she is trained as a special education advocate. Cyndi enjoys positions that capitalize on her ability to convert complex challenges into succinct and effective solutions. She loves the collaborative spirit at CNF and sees the tremendous gains for our community when organizations and individuals work together to drive positive change.  Recent positions include managing the CNF SUDEP Education Initiative and the Epilepsy Foundation SUDEP Institute Director.  She also services as the Special Education District Advisory Committee Chair for her school district and and serves on the Resource Parent Council and Community Advisory Committee for her county.  When Cyndi is not managing programs or supporting her school community, you can find her outdoors in the mountains with her husband, two sons and two dogs.
Loren Brigham – Program Coordinator
Loren just graduated in May 2021 from the University of Kentucky, with a Bachelor of Health Sciences. During her studies, she focused her research on health equity, and community outreach of underserved populations. She was drawn to apply to CNF because of the team's strong dedication and drive to better the lives of children with neurologic conditions, and the community outreach involved in doing so. In her spare time, she enjoys doing yoga, taking her Goldendoodle, Sunny, to the park, and trying new recipes off of Pinterest.
Clare Hennig – Marketing & Communications Manager
Clare joined CNF in May 2020 from the fast-paced news world of journalism, bringing with her a passion for storytelling and a bit of a coffee addiction. She has an unrelenting belief that everyone has a story to tell that can help inspire others, share well-earned wisdom and bring people a little bit closer together as a community — essentially, a belief in the power of words to change the world.
Clare has lived, worked or studied in about ten countries, picking up a few languages along the way, and currently resides in Southern California where she is crazy about outdoor adventure sports like rock climbing, skiing, trail running and hiking. She is also a total bookworm and enjoys motorcycle racing.
As part of CNF's communications and marketing team, Clare focuses on helping share the story of CNF and everyone involved.
Priscilla Burton – CNF FRIENDraiser
Priscilla brings more than 20 years of experience guiding nonprofits to achieve sustainable revenue growth and increased impact. An accomplished, insightful and innovative leader, Burton's extensive experience in nonprofit leadership and strategy includes serving as CEO of the Epilepsy Therapy Project (ETP), where she led the organization through a pivotal year that culminated in its successful merger with the Epilepsy Foundation of America. Prior to ETP, Burton led fundraising efforts for the high profile, Proposition 71, California's Stem Cell Research and Cures Initiative and prior to Prop 71 was the founding vice president of development for CaPCURE: The Association for the Cure of Cancer of the Prostate (now the Prostate Cancer Foundation), where she built the new nonprofit's development strategy from the ground up. Before launching Burton Strategies, she co-founded Evolution Partners, Inc, a full-service boutique firm specializing in strategic development planning and fundraising for nonprofits and select political efforts. Burton's strong background in political campaign fundraising and management includes an exceptional track record in leading highly successful fundraising initiatives for national senatorial campaigns, including US Senator Dianne Feinstein. Burton holds a bachelor's degree in Law and Society from the University of California, Santa Barbara. She resides in Santa Monica, California.
Paul Cooper – Convening & Facilitating Methodologist
Paul has devoted his 25-year consulting career to helping clients improve collaboration and internal communication. He helps groups build new awareness and mobilize energy for change as a facilitator, executive coach, organizational development consultant, and qualitative researcher. His book, Change Agent Nation: Create Change in Your Neighborhood…or Across the World was published in 2019 and is available on Amazon.