Each year, we identify an important education initiative that impacts the entire child neurology community. In 2020, our focus was on Shortening the Diagnostic Odyssey, which included genetic testing and the role it can play in helping to identify and uncover potential issues earlier in the diagnostic journey.
Because of it's importance, and as advances in genetic testing progress, we'll continue to develop resources so you can make informed decisions about your child's health. So, take a look around and check back often. We hope you'll find some useful information here to help you make an informed decision on genetic testing.
Considering Genetic Testing?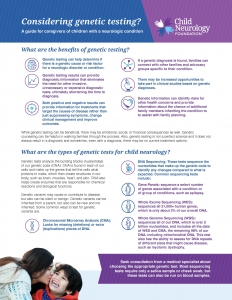 In this guide for parents and caregivers, we cover the:
Benefits of genetic testing 

Types of genetic tests 

Cost of genetic testing

Role of genetic counseling  
Knowing the Name of a Gene Can End Your Diagnostic Odyssey
In this webinar, we hear from two experts about the next steps you can take on your family's journey with a rare condition.
The Role of Genetic Testing to Shorten the Diagnostic Odyssey
In this 60-minute session, we discuss the role that genetic testing can play in helping to shorten the time to diagnosis.
No-cost genetic testing and counselling opportunity
PTC Pinpoint Neurotransmitter Disorders Program:
For children with symptoms of neurotransmitter disorders, such as AADC deficiency, PTC Therapeutics and Invitae are offering no-cost genetic testing, post-test genetic counseling, and family screening through the PTC Pinpoint Neurotransmitter Disorders Program.
One of the most common symptoms of Aromatic L-amino Acid Decarboxylase (AADC) deficiency is involuntary eye movements called oculogyric crisis (see video here). These are moments when a child's eyes suddenly roll upward or to the side involuntarily.
Talk to your doctor about testing with PTC Pinpoint if your child is experiencing symptoms of AADC deficiency.
PTC Pinpoint Direct:
If your child has been diagnosed with cerebral palsy (CP) or has symptoms of CP without a clear cause, there may be a genetic reason – up to 1/3 of CP cases may have a genetic cause.
PTC Pinpoint Direct is an innovative, sponsored testing program that can help families get answers about cerebral palsy through no-cost genetic testing. If your child qualifies, you can get a sample collection kit sent to your home and receive expert genetic counseling.
Learn more and see if your child qualifies here.
For Healthcare Professionals
As part of our effort to elevate the importance of genetic testing, and the role it can play in shortening the diagnostic journey for children living with a neurologic condition, we are working to expand the usage of genetic testing in the diagnostic process.
Thanks to the generous support of Illumina, we will be able to provide whole genome sequencing (WGS) at no cost to a limited number of patients, aside from possible routine venipuncture costs.
In 2021, up to 5 medical sites and 20 children in the US who have not previously received a molecular diagnosis will be selected to receive WGS. It's important to note that applications will only be accepted from medical professionals.
The program will take place from April to June, 2021. The application deadline has now passed. Please sign-up for our weekly newsletter for updates and future opportunities. 
Additional Information & Resources
For more information on genetic testing, we have found the following organizations and resources to be quite helpful:
Without your generous support, our programming would not have been possible.
Lead Industry Partners
Lead Advocacy Partners