Inaugural
Dr. Kenneth F. Swaiman Medical Student Scholarship now accepting applications until March 19!
To honor the legacy of Dr. Swaiman and his contribution to child neurology, the Child Neurology Foundation's (CNF) offers the Dr. Kenneth F. Swaiman Medical Student Scholarship thanks to the support of his wife and pediatric neurologist Dr. Phyllis Sher.
Administered annually, the $6,000 summer research scholarship will be given to each of three (3) U.S. or Canadian medical students who have an interest in exploring a career in child neurology. Travel expenses up to $1,500 will be provided to attend the annual Child Neurology Society meeting. The award will be open to second- or third-year medical students for a basic or clinical research project in child neurology conducted under the direction of a child neurologist.
Guidelines
Applications should not exceed five pages (including the cover letter) using a double-spaced, Arial, 11 pt, o.5" margin format and should include the following:
A cover letter with complete applicant contact information (name, email, phone, address), mentor contact information (name, title, email, phone, address), project title
The hypothesis to be tested
A description of the proposed methods
Goals for the project
The feasibility of the proposal
The facilities to be utilized
In addition, the application must also include a letter from the child neurology mentor agreeing to sponsor the student and oversee the project. The letter should specify that the mentor will be responsible for ethical conduct of research and for obtaining, if necessary, Institutional Review Board approval of the research.
Applications must be submitted by March 19, 2023. Only emailed applications will be accepted. Confirmation of receipt will be sent to all applicants. If confirmation is not received within 2 business days, please call Allyson Eyermann at 888.417.3435. Applications will be reviewed by a committee of child neurologists. All applicants will be notified of the committee's decision by May 17.
The recipient and mentor are each responsible for providing a summary of the research and the mentor-mentee experience to the Child Neurology Foundation via email by September 1.
For more information, contact:
Allyson Eyermann, CNF Operations Manager
[email protected] 
888.417.3435 
2022 Inaugural
Dr. Kenneth F. Swaiman Medical Student Scholarship Recipients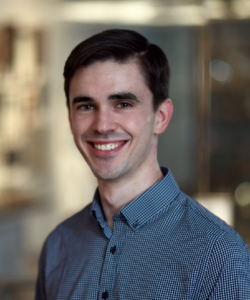 Congratulations, Daniel Connolly, an MD/PhD candidate at University of Pennsylvania Perelman School of Medicine!
When asked about his career goals, Daniel had the following to say:
"I am pursuing MD-PhD training to prepare for a career devoted to improving our understanding of childhood neurological disorders through basic research and applying this knowledge in clinical practice. Basic research on brain function and disease is essential for the development of new therapies, and as a future physician-scientist I hope to be deeply involved in this process, developing new knowledge in the laboratory and helping apply it in the clinic. After completing my training, I plan to pursue a career in academic medicine, spending time in the lab studying basic mechanisms of childhood neurological disorders and the rest of my time in the clinic seeing children affected by these conditions. I hope to make meaningful improvements in the lives of my future patients and their families, and I hope that my discoveries in the lab will positively impact the lives of many future patients as well."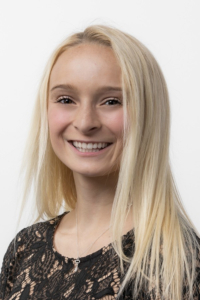 Congratulations, Alyssa Edwards, MPH, an MD candidate at Case Western Reserve University, School of Medicine!
Alyssa Edwards is a second-year medical student at Case Western Reserve University School of Medicine. She holds an MPH as well as a BA in cognitive science and a minor in psychology from Case Western Reserve University. Alyssa's past and current research interests are in autism spectrum disorder, neuroimaging, global health, and health disparities in individuals with developmental disabilities.
Prior to starting medical school, she has had a diverse background in research: from tracing the underlying causes of Autism using cerebral organoids at the Jackson Laboratory, looking at genetic markers associated with prostate cancer through the Case Comprehensive Cancer Center, to traveling to Ghana where she spent three months researching biomarkers associated with resistance to malaria.
Alyssa's initial motivations for neurodevelopmental research stemmed from growing up with her cousin who has an intellectual developmental disorder. This passion further led her to spend over 500+ hours volunteering for Ohio Special Olympics. Her involvement in Special Olympics showed her how providing intimate personal connections is just as important as discovering scientific breakthroughs, and it is her desire to continue these types of relationships with her patients in the future.
She is currently working with Dr. Alexander Cohen at Boston Children's Hospital on a study where she will use coordinate network mapping to determine brain networks most associated with stimulant use in patients with ADHD. Alyssa is excited for a career in which she can continue to follow her passions for neurodevelopmental disabilities with hopes of making a significant impact in the field of child neurology.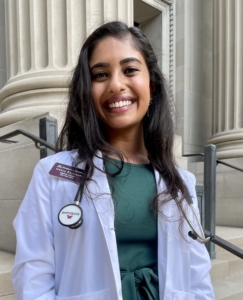 Congratulations, Geetanjali Rajamani, an  MD candidate at University of Minnesota Medical School!
When asked about her career goals, Geetanjali had the following to say:
"As my first year at the University of Minnesota Medical School draws to a close, I have been able to reflect on the variety of clinical specialties I have been exposed to. In particular, child neurology stands out to me. I am mesmerized by the capacity of the human brain to perform functions we take for granted in a matter of milliseconds; I enjoy the puzzle-like manner in which neurologists correlate clinical symptoms to brain anatomy. I hope to use my love for the human brain to help children with neurologic conditions go on to live beautiful lives. I aspire to have a career in which I can make meaningful clinical impact on kids and advance research regarding devastating neurologic diseases. I am extremely grateful to the Child Neurology Foundation for their generous support of my research this summer – thank you!"