Tomorrow, December 1st, Kicks Off Infantile Spasms Awareness Week (ISAW)
Identifying infantile spasms (IS) is critical for parents, caregivers, and providers. The earlier a child is diagnosed, the greater the chances that the spasms can be treated—helping to minimize the long-term harm to a child's developing brain.
CNF convenes the Infantile Spasms Action Network (ISAN)– a collaborative network of over 20 national and international entities focused on raising awareness for IS. In recognition of Infantile Spasms Awareness Week, ISAN has established the 'STOP' Infantile Spasms mnemonic–a tool to help people remember what's most important when recognizing the subtle symptoms of IS: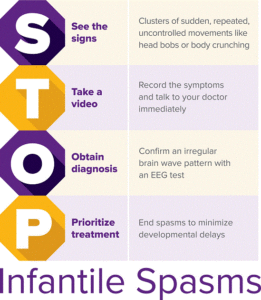 What Do Infantile Spasms Look like? Many people mistake IS for other conditions or see them as not harmful, but knowing what to look for, followed by prompt diagnosis and appropriate treatment are critical for a child's best developmental outcome.
ISAN thanks our partners at the Infantile Spasms Project for sharing videos that show babies experiencing infantile spasms. Click on the video image or go to www.ISWeek.org to view this and other helpful videos.
Help Us Spread IS Awareness! During ISAW 2017, share the mnemonic, share the messages, share the images! To download the style guidelines and graphic files for the 'STOP' Infantile Spasms mnemonic click here. Note: these images are not copyrighted and you are free to share, but we ask you to use #ISAW2017 for social media, if sharing via email, please copy

[email protected]

; and whenever possible, attribute the information to the Infantile Spasms Awareness Network (ISAN) and include www.ISweek.org.

Be sure to follow CNF on social media and share and retweet our ISAW posts:
Facebook
Twitter
Instagram
Add a Facebook Profile Picture Frame Use our customized #ISAW2017 FB frame! Let your followers know that you support IS treatment, research and education. Simply:  1. Hover your cursor over your profile picture, select "Update profile picture" 2. Select "Add Frame" 3. Search for "Child Neurology Foundation" 4. Select the "ISAW2017" frame and click "Use as Profile Picture"  Or.. if you're already logged into FB, try this link.
Going to the American Epilepsy Society Meeting this weekend?
If so, watch your email and CNF social media for updates about ISAW activities at the AES meeting, including the Infantile Spasms Innovation Pavilion on Monday, December 4 in the Exhibit Hall and a Congressional Briefing on Infantile Spasms on Tuesday, December 5 at the US Capitol Visitors Center. Contact Stephanie Mucha for more details or visit www.ISWeek.org.