Authors: Mekka Garcia, MD, NYU Grossman School of Medicine;
Alison L. Christy, MD, PhD , Providence Pediatric Neurology at St. Vincent Medical Center – Portland, Oregon 
Reviewed: July 2021
Updated: November 2023

SUMMARY
Rett syndrome (RTT) is a rare neurodevelopmental disorder that mostly affects girls. It is one of the most common genetic causes of intellectual disability. Intellectual disability can range from mild to severe. RTT is due to a difference in the MECP2 gene, which is important for the development of the brain. This gene is located on the X chromosome. 
RTT is a progressive disorder, which means that it can get worse as children get older. RTT causes impairment in the ability to talk, walk, eat, and breathe.
DESCRIPTION 
RTT occurs when there is a variation (akin to a misspelling) in the MECP2 gene. This gene is important for the development of the brain. It is located on the X chromosome.  
Humans have two sex chromosomes—the X and Y chromosomes. Females have two X chromosomes (XX) while males have one X and one Y chromosome (XY). This variation on the MECP2 gene causes males to die before birth or shortly thereafter, and thus we mostly see the disease in girls. 
Usually, children affected by Rett syndrome will develop normally from birth to 6 months of age. Then they can lose skills they have already learned, like talking, sitting, or picking up toys. This is called a developmental regression. 

SIGNS AND SYMPTOMS
The clinical features of RTT can be divided into four stages. 
Stage 1 (6-18 months old)
During Stage 1, changes can occur slowly and may not be obvious. Some parents may not realize that their child has a problem.
Some children may develop: 
Loss of eye contact

 

Low muscle tone (floppiness) 

 

Low interest in play

 

Loss of some speech

 

Poor feeding

 
Stage 2 (1-4 years old)
During Stage 2, changes occur more rapidly, and children may lose skills that they have developed. This is called developmental regression.
Some children may develop: 
Loss of speech

 

Inability to control arms and hands (can't grab toys)

 

Repetitive hand movements (flapping, clasping, rubbing, tapping, or a wringing movement that looks like hand washing)

 

A change in breathing (breathing slow or fast; holding breaths)

 

Microcephaly (small head)

 
Stage 3 (2-10 years old)
During Stage 3, changes again occur more slowly.
Some children may have: 
Development of seizures (a burst of electrical activity in the brain that can cause the body to behave abnormally)

 

An inability to perform learned movements on demand 

 

Difficulty chewing and eating along with poor weight gain

 
Stage 4 (10 years old and up)
During Stage 4, the ability to talk does not usually get worse. It may even improve.
However, some children may develop: 
Muscle weakness

 

Scoliosis (curved spine)

 

We do not know why some children's MECP2 gene changes, causing RTT. These changes occur randomly. As far as we know, neither the child or mother getting sick, being emotionally stressed, or being exposed to substances in the environment can cause RTT.
The change to the MECP2 gene is spontaneous, meaning that it is not inherited from the child's mother or the father. This means that if you have one child with RTT, your other children are not at a higher risk of having RTT, nor are their children.
LABORATORY INVESTIGATIONS
RTT can usually be diagnosed by a doctor who listens to a health history and does a physical exam. Your doctor will ask about your child's development, sleep, weight, growth, and breathing patterns.
Sometimes a doctor needs to do more tests to confirm the diagnosis. These may include:
Genetic testing
A test for the presence of the MECP2 mutation.
Electroencephalogram (EEG)
A test of the electrical activity of the brain, which can be helpful in looking for seizures. 
Magnetic resonance imaging (MRI)
A picture of the brain, looking for signs of injury or other abnormalities that would make RS a less likely diagnosis. 
T

REATMENT AND THERAPIES 
Check with your child's medical provider about treatment options for Rett syndrome. In addition to specific treatment for Rett syndrome, options may include: 
Developmental therapy
Includes speech therapy, physical therapy, and occupational therapy. Can support your child through development. 
Psychosocial support for families
Individualized education plan
Program set up with a school to give a child the best possible education. 
Selective serotonin reuptake inhibitors (SSRIs)
Medication that aids with behavioral issues such as anxiety. They are also very helpful for the obsessive-compulsive behaviors commonly found in patients with Rett syndrome. This includes the stereotypies and hyperventilation/hypoventilation.
Magnesium
Supplement that may prevent abnormal breathing.
Melatonin
Supplement that can help with sleep. 
Anti-seizure medicine
Medication that prevents seizures. 
Soft arm restraints
Can prevents repetitive hand movements and self-harm. 
Back bracing and/or surgery
Treatments for scoliosis. 
OUTLOOK
The life expectancy of people with RTT depends on the type of mutation.
The links and resources included in this section are solicited directly from the community by the Child Neurology Foundation through a formal submission process. CNF reserves the right to remove entities at any time if information is deemed inappropriate or inconsistent with the mission, vision, and values of CNF. The authors listed on this page have not endorsed the resources or links provided in this section. 
International Rett Syndrome Foundation 
The mission of the International Rett Syndrome Foundation (IRSF) is to transform the lives of all those affected by Rett syndrome.  IRSF funds research for treatments and a cure for Rett syndrome while enhancing the overall quality of life for those living with Rett syndrome by providing information, programs, and services. IRSF coordinates and funds research that will produce a cure for Rett syndrome and identify and develop treatments that will make the lives of people living with Rett syndrome richer and free of pain and discomfort. IRSF also assists families of individuals living with Rett syndrome and advocates for and raises awareness about individuals with Rett syndrome. IRSF also hosts a private Facebook group, Parents of Newly Diagnosed Rett Syndrome Support. 
Girl Power 2 Cure 
The mission of Girl Power 2 Cure is: 
To empower and support families affected by Rett Syndrome

 

To educate and enrich the lives of those with Rett Syndrome as well as those who teach and support them

 

To help eradicate the disorder through research targeted donor outreach

 
This organization also hosts a private Facebook group, Girl Power 2 Cure.
Rett Syndrome Angels 
Rett Syndrome Angels is an organization of parents, family, and friends committed to improving the lives of every child afflicted with Rett syndrome. Formally, the Rett Syndrome Association of Massachusetts (RSAM), they have been supporting families throughout New England by providing services, resources, and awareness. While they are based in Massachusetts, they do have virtual webinars, online educational programs, and newsletters that provide resources for anyone looking for information on Rett syndrome. RSA also hosts a public Facebook group, Rett Syndrome Angels, that anyone worldwide can join. 
Girl Power 2 Cure shares stories of hope and inspiration from families living with Rett syndrome. 
On the International Rett Syndrome Foundation blog page you will find stories from other families who are willing to share their wisdom, experiences, worry, and hope with you! Know that you are not alone in this journey and become a part of a community who is making strides towards finding a cure.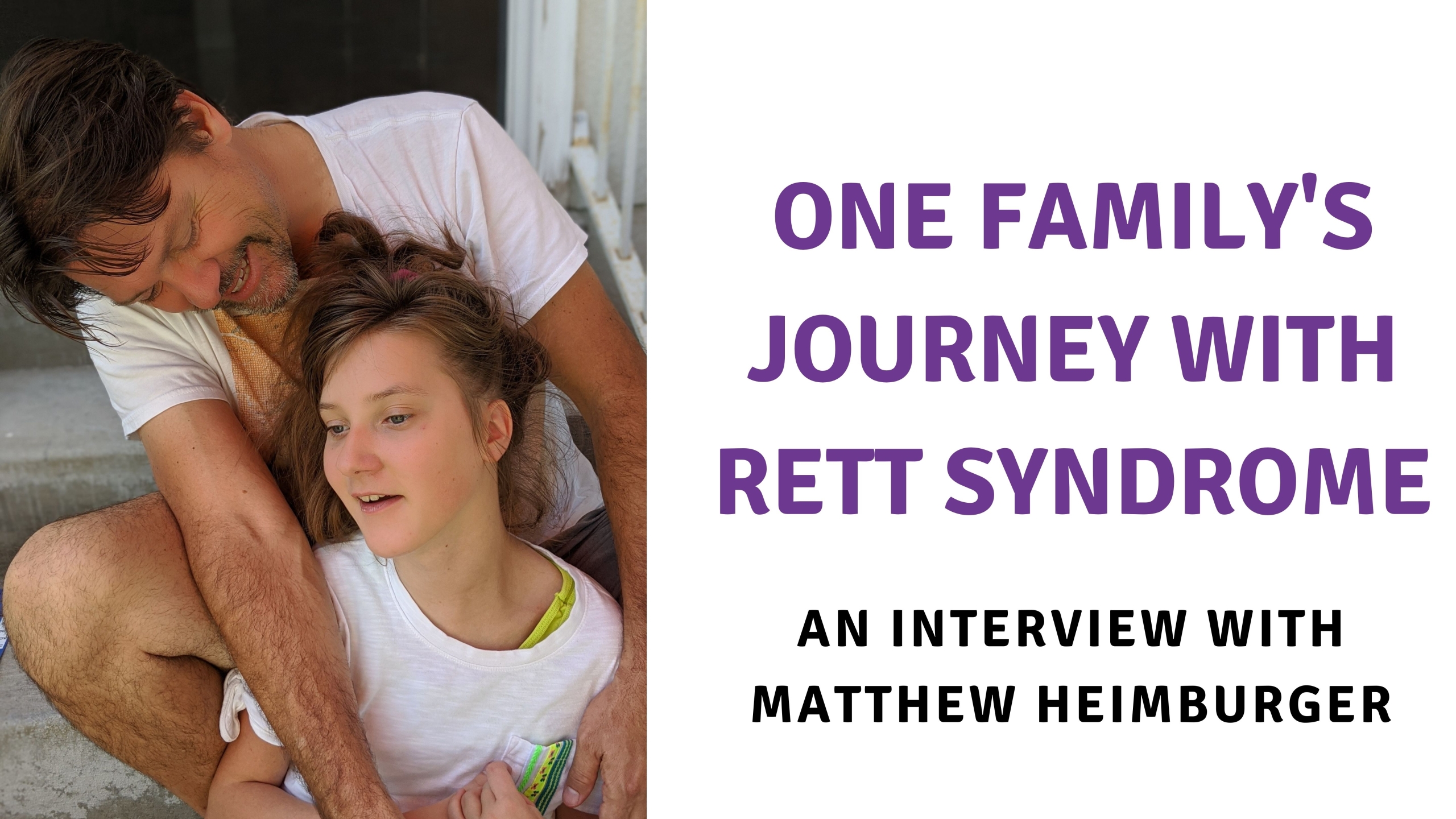 Thirteen-year-old Lucy Heimburger  was diagnosed almost a decade ago with Rett syndrome as a toddler.
"Rett syndrome is a really tough diagnosis. I wish I could say otherwise. It catches people by surprise because it doesn't run through generations, it's such a random thing that you are just blindsided," her father, Matthew Heimburger, told the Child Neurology Foundation in an interview.
Life for the Heimburger family doesn't look the way they imagined. But it also doesn't look quite as different as they once thought it would.
"Lucy has a gratitude and a love and a forgiveness that I will spend my whole life trying to learn. And she has it now. She is somebody really special."
These are clinical trials that are recruiting or will be recruiting. Updates are made daily, so you are encouraged to check back frequently.  
ClinicalTrials.gov is a database of privately and publicly funded clinical studies conducted around the world. This is a resource provided by the U.S. National Library of Medicine (NLM), which is an institute within the National Institutes of Health (NIH). Listing a study does not mean it has been evaluated by the U.S. Federal Government. Please read the NLM disclaimer for details.   
Before participating in a study, you are encouraged to talk to your health care provider and learn about the risks and potential benefits. 
For more information about participation in clinical trials, check out our education hub on the topic here. 
Information for research and clinical trials specific to Rett syndrome can be found on the International Rett Syndrome Foundation, Girl Power 2 Cure, and Rett Syndrome Angels websites. 
The information in the CNF Child Neurology Disorder Directory is not intended to provide diagnosis, treatment, or medical advice and should not be considered a substitute for advice from a healthcare professional. Content provided is for informational purposes only.  CNF is not responsible for actions taken based on the information included on this webpage. Please consult with a physician or other healthcare professional regarding any medical or health related diagnosis or treatment options. 
Neul JL, Kaufmann WE, Glaze DG, Cristodoulou J, Clarke AJ, et al. Rett Syndrome: Revised Diagnostic Criteria and Nomenclature. Ann Neurol. 2010; 68:944-950. http://doi.org/10.1002/ana.22124 
Schonewolf-Greulich B, Bisgaard AM, Moller RS, Duno M, et al. Clinician's guide to genes associated with Rett-like phenotypes-Investigation of a Danish cohort and review of the literature. Clin Genet. 2019; 95(2):221-230. http://doi.org/10.1111/cge.13153  
Weaving, LS, Ellaway CJ, Gecz J, Cristodoulou J. Rett syndrome: clinical review and genetic update. J Med Genet. 2005; 42:1-7. http://doi.org/10.1136/jmg.2004.027730 
Thank you to our 2023 Disorder Directory partners: