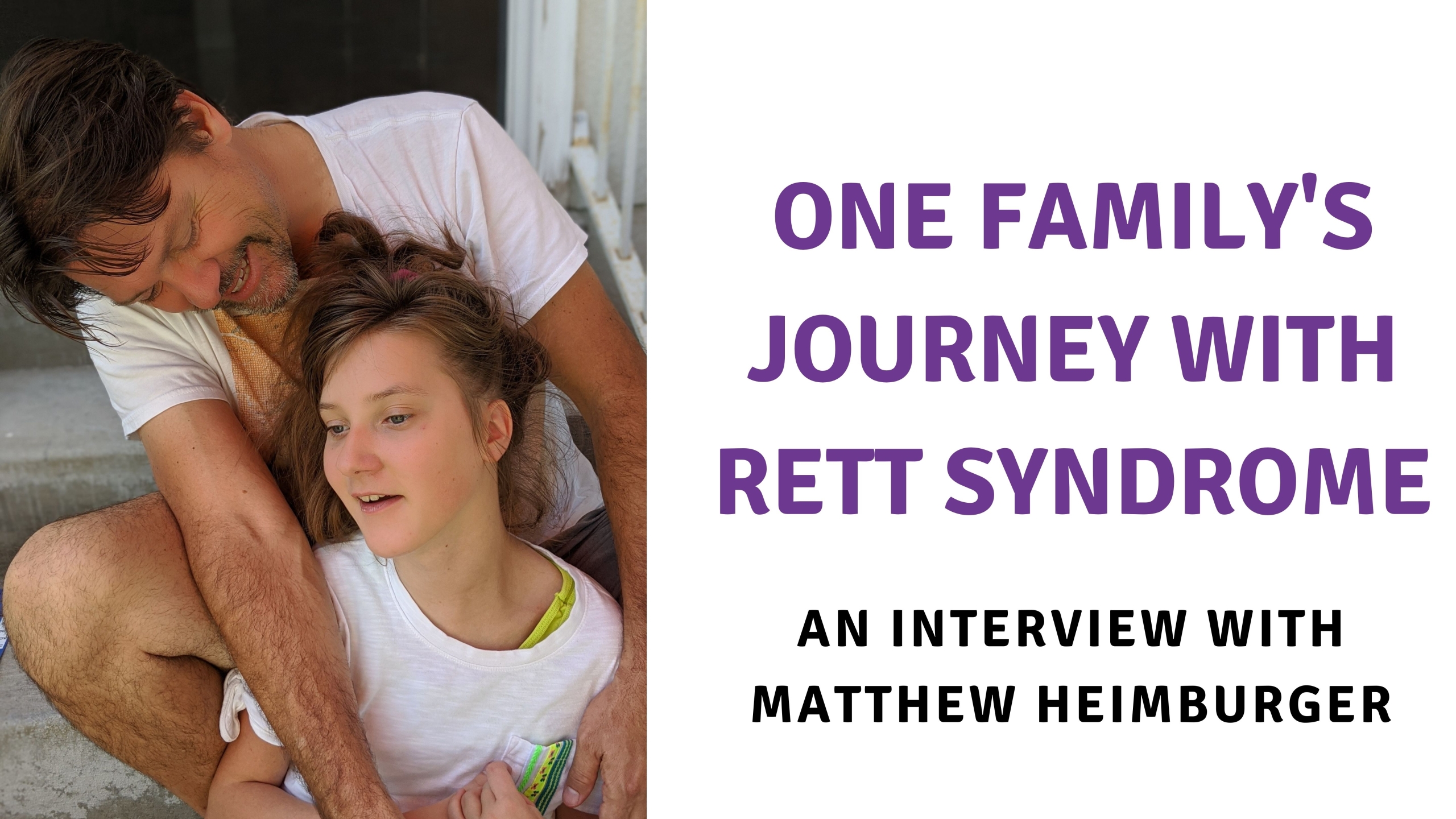 Life for the Heimburger family doesn't look the way they imagined. But it also doesn't look quite as different as they once thought it would.
Matthew and his wife Anna, both lovers of the outdoors, live nestled in the mountains of Utah. Their two sons are off in college and 13-year-old Lucy started 8th Grade this year.
But Lucy was diagnosed almost a decade ago with Rett syndrome, a rare genetic neurological and developmental disorder, as a toddler.
"We were devastated by the diagnosis – all these ideas of how our life would go, we finally had a daughter and we were going to do this and that," Matthew told the Child Neurology Foundation in a recent interview.
"Rett syndrome is a really tough diagnosis. I wish I could say otherwise. It catches people by surprise because it doesn't run through generations, it's such a random thing that you are just blindsided."
Listen to Matthew share more about getting a diagnosis, day-to-day life, and what brings him hope:
Life With Lucy
Rett Syndrome is caused by a variation on the MECP2 gene and it affects the way the brain develops, causing a progressive loss of motor skills and speech. The disorder mainly affects girls, although there are some cases of boys with Rett syndrome.
Matthew doesn't sugarcoat the reality of living with Rett syndrome but when he talks about their life, his positivity is buoyant. His love for his family, and the way they cherish Lucy, underpins everything he says.
"One of Lucy's traits is that she is really calm and relaxed and very smiley. And that has been wonderful for us – that's what we need, maybe. She calms us down," he says.
Lucy can't walk and doesn't talk, so Matthew describes the family as being her arms, her legs and her voice.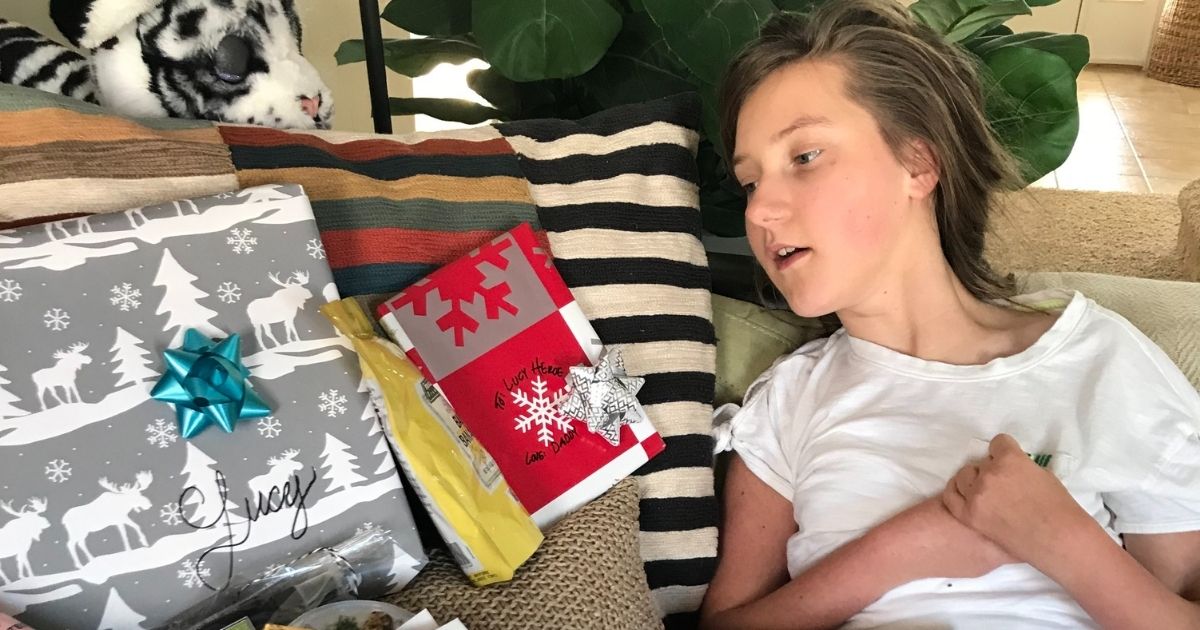 "I still lift Lucy – she weighs about 68 pounds – and it is my great pleasure to lift her. That's my job: I'm the muscle for Lucy and then we just work together as a family to figure it out," he says.
During the interview, Lucy is downstairs doing a three-hour long session of behavioral therapy. The family keeps a busy schedule with a host of different kinds of therapies: speech therapy, physical therapy, swim therapy, Rolfing, cranial sacral massages, and much more.
Lucy rides horses in the summer and skis in the winter, too.
"I've skied since I was 3 and I dreamed of teaching my daughter how to ski – and I am, it's just a little different. But I'm having as much fun as I've ever had," says Matthew.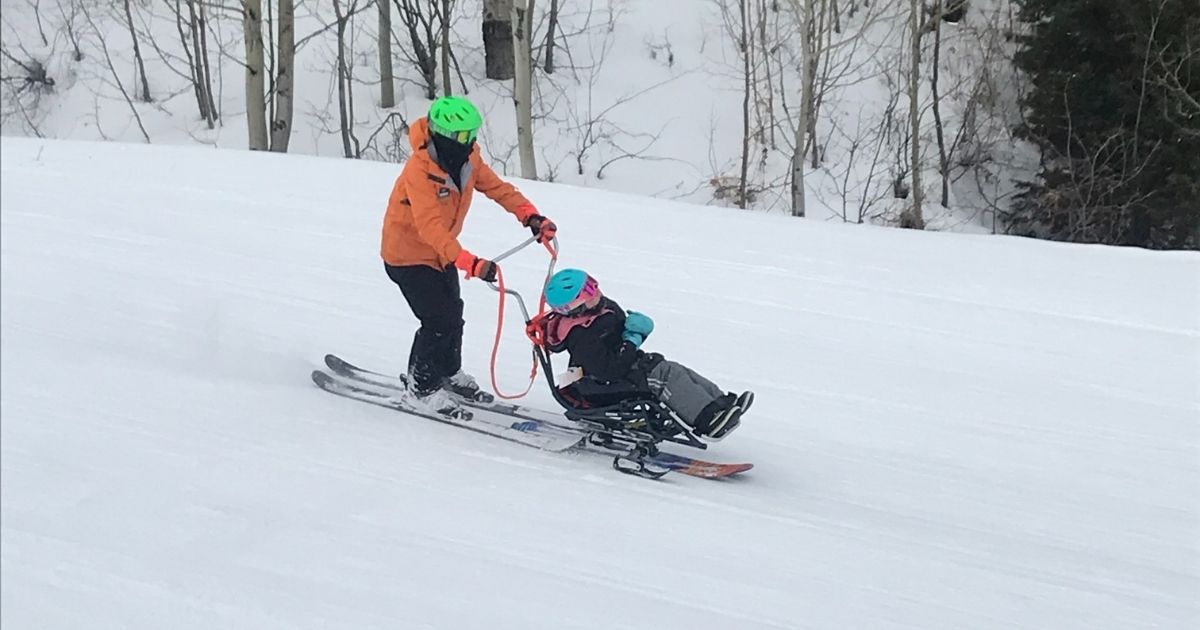 No Hope Is Ruled Out
One of the unknowns about Rett syndrome is the extent of the abilities and possibilities of those living with the condition. There can be unexpected breakthroughs; Matthew brings up examples of girls learning to walk at age 30 and girls who write poetry with their eye-gaze devices.
The Heimburger family doesn't want to rule out anything for Lucy.
"That's why we do all of our therapies, with the hopes that something will happen for Lucy," he says.
"If her therapy is riding a horse and you're hoping that one day she'll walk – even if the walking doesn't kick in right away, she's riding a horse!"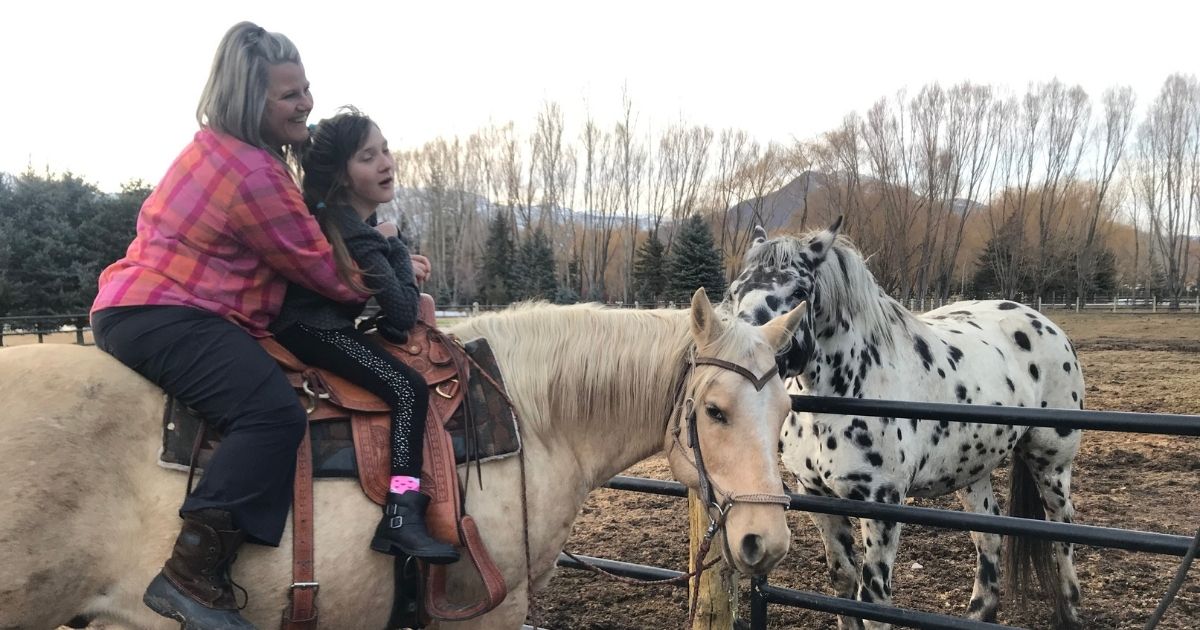 It takes a lot of family coordination and sometimes third-party help to manage everything Lucy needs.
"My wife has the better job – she is smarter and cooler than I am – and so she kept her job to keep our healthcare and I pulled back from my profession," Matthew says.
"I have more time with Lucy and I take her to most of those places, but we do tag team all the time."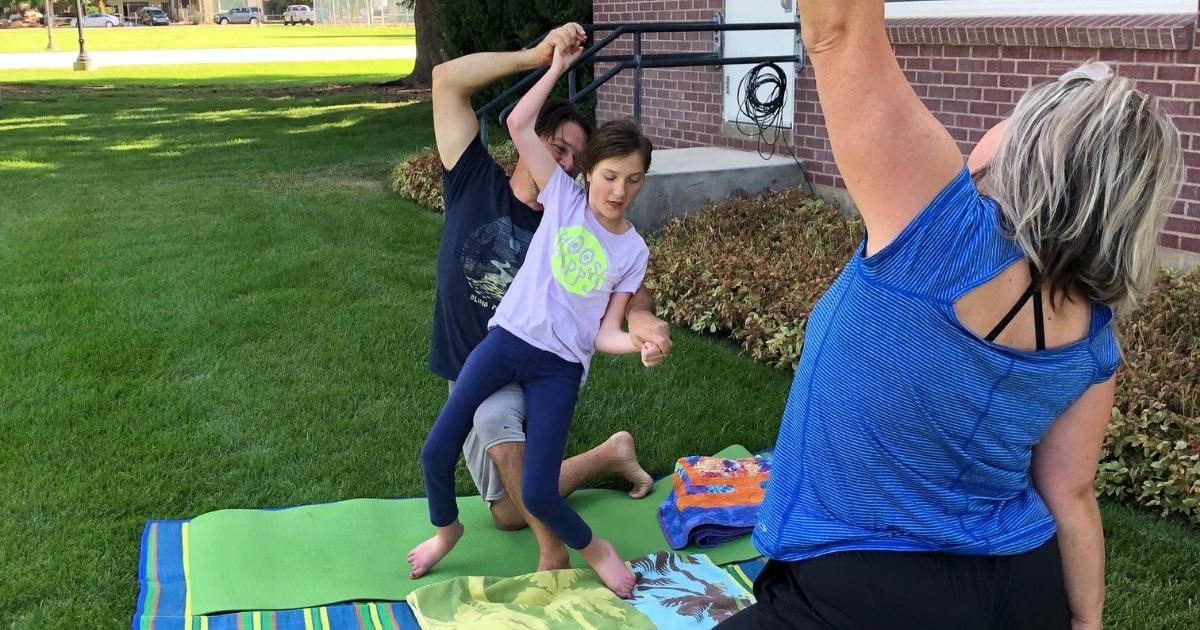 Learning To Advocate And Ask
Asking for outside help, financial or otherwise, was one of the challenges Matthew says they had to learn to overcome.
"If your income is low and you think you can't afford something, there are programs at every level that can help," Matthew says.
"If you are like us and you are kind of in the middle, you pick and choose. And if there is something that you really need for your daughter, you fundraise for it."
"There is a lot of joy in the journey, even alongside a lot of challenge and struggle" – Hear more from Matthew in the video:
That sense of self-advocacy also flows into other areas of their life.
Rett syndrome is rare enough that many of the medical providers the family works with hadn't had first-hand experience with the condition before Lucy. Their school is better able to support Lucy when the family can explain what she needs. And big picture change is possible through advocacy.
"You can't expect people to know or care about Rett syndrome until they've met your daughter," Matthew says.
"So, you get information from the sources where you can get it and you take it to your doctor, and your school, and you take it to your legislature. Because they won't know about Rett syndrome and they won't include it in their plans unless you help them know why it's important."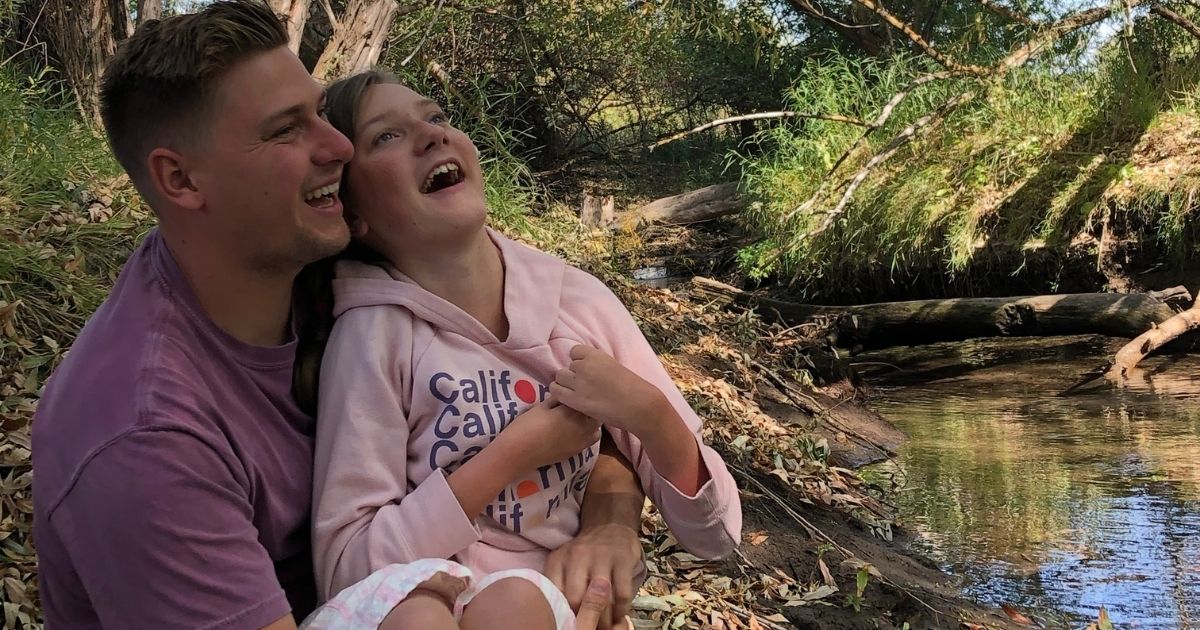 'What A Beautiful Being'
Even now after a decade of living with Rett syndrome, Matthew says, life can feel like a rollercoaster.
But he encourages other families in a similar situation to fight against feeling overwhelmed, find support from their communities and see their child for who they are beyond their diagnosis.
"Your daughter has so much she is trying to say and to give and to teach. At some point, when you can be a little bit more still and let her wash over you, oh my goodness, what a beautiful being you'll discover," he says.
"Lucy has a gratitude and a love and a forgiveness that I will spend my whole life trying to learn. And she has it now. She is somebody really special."
To hear more about the Heimburger family's story, watch this short documentary "A Silent Angel" made by Lucy's older brother Mason:
For more information and resources about Rett syndrome , visit: