Pediatric development expert on what the new CDC milestones mean for you

 
In February of 2022, the Centers for Disease Control (CDC) and American Academy of Pediatrics (AAP) announced that they were updating their "Learn the Signs. Act Early." These new CDC milestones – which are revisions of the guidelines that were originally released in 2004, are infant development checklists that help determine the need for developmental screenings. After several years of research and discussion, the milestone updates aim to better reflect the data of when children are reaching milestones such as crawling, walking, speech, and more.  
To understand how these updates will impact your child's care, we spoke with Dr. Paul Lipkin, a member of the AAP Section on Developmental and Behavioral Pediatrics and Council on Children with Disabilities who also assisted with the revisions. Here's what we learned. 
Can you provide context on what's happening?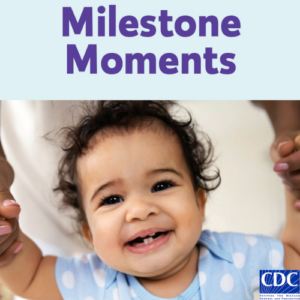 For most of the time that these guidelines have been around, there hasn't been any real research behind them. But over the past 15 years, there's been an explosive interest in milestones and early detection. This led the CDC to look at data that had been collected over several years, and by 2019, it became apparent that the information needed to be updated to be create more useful and accurate for materials for families and professionals. 
What updates should families be aware of?
The biggest change is that milestones are now based on the 75th percentile instead of 50th. So now, it is considered typical for 3 out of 4 of babies to reach a specific milestone by a specific age instead of 2 out of 4. For example, walking is now considered a milestone for 18 months of age, meaning 3 out 4 children will be walking by this age. 
The goal here was to help identify children that really need extra support and eliminate a lot of the 'wait and see' approaches that resulted from the 50th percentile guidelines.  
Some other noteworthy changes include:
Adding checklists for ages 15 and 30 months; now there is a checklist for every well-child visit from 2 months to 5 years.

 

Identifying additional social and emotional milestones (e.g., smiles on their own to get your attention, age 4 months).

 

Removing vague language like "may" or "begins" when referring to certain milestones.

 

Removing duplicate milestones.

 

Providing new, open-ended questions to use in discussion with families (e.g., Is there anything that your child does or does not do that concerns you?).

 

Revising and expanding tips and activities for developmental promotion and early relational health.

 
Along with the new CDC milestone, the agency also announced the launch of a smartphone app to help families track milestones, as well as written materials – in multiple languages – for medical professionals to use for educational purposes.  
What does this mean for the child neurology community?
For parents who are concerned about their child's development – which is a common driver for identifying neurological conditions – we hope that having these new milestones rooted in data will provide more clarity, as well as provide a quicker pathway to tools that help with behavior management or shortening the diagnostic odyssey.  
Lastly, it's important to know that the milestones themselves are not screening tools. Rather, they are communication tools aiming to promote developmental monitoring and encourage conversations about child development. The goal is to encourage parents and physicians to work together more efficiently to identify children who are experiencing delays and need early intervention of some sort. 
Visit www.CDC.gov/actearly to review the new CDC milestones, download the app, and to learn more about how to monitor your child's milestones and development. And as always, contact your child's primary care physician or neurologist if you have any concerns.