Elliot is one of the children who received a $1,000 Rise Family Grant from CNF. Here is a message from his family.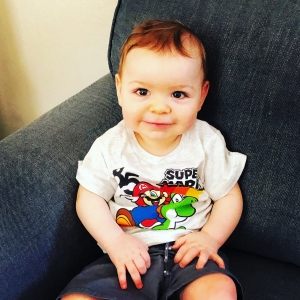 "It's no secret that 2020 has been a year of turmoil for everyone. Stress and frustration has touched the life of every individual and community across the world. Our family is no exception. But the day our precious baby boy was diagnosed with Lissencephaly Pachygyria Spectrum Disorder the pandemic was momentarily forgotten and it felt like our entire world shattered. Lissencephaly is a rare disorder, only occurring in about 1 of every 100,000 children. The term literally means "smooth brain" because in the womb the brain of an effected child does not develop the folds and grooves of the brain of a neurotypical child. Instead, it is smooth like an egg or has areas that are smooth. We had never even heard of this illness before the day our son was diagnosed. We learned that its symptoms are usually severe and that our son may struggle to eat or breathe normally and that he may be severely intellectually delayed. We were also informed that it was likely that he would never learn to walk or talk and that his life expectancy would be about 10 years. Our lives were unalterably changed in an instant. 
Suddenly every expectation and plan that we had made for Elliot's life had to be set aside and we determined to forge a new path. We resolved to do everything within our power to give our son every opportunity to succeed and experience joy without expectations or limitations of what he may or may not achieve. Our lives became consumed trying to obtain services and medical care for our differently abled child. This is no small task in the best of times. But during a pandemic? It seems the obstacles instantly multiplied.
We feel that intervening early with therapy and adaptive equipment is crucial to fully take advantage of the miraculous neuroplasticity of our infant's brain and growing body. Yet offices are closed or operating at reduced capacity and every day that passed without services felt like opportunity lost. Nevertheless, we have been working relentlessly to obtain as much help for our baby as we can. It feels like a race against the clock to take advantage of his early development and help him make forward progress. Especially with the knowledge that this brain abnormality could cause him to develop epilepsy at any moment. Thus far he has been spared any seizures but the possibility that they are likely to come is a shadow quietly looming and ever present in the back of our minds.
In spite of the monumental challenges we were facing we determined to push back. Slowly but surely over the course of the past months we have been able to assemble a team of medical doctors and therapists who believe in our warrior as much as we do. We began Physical Therapy and Occupational Therapy as quickly as we could. We have consulted with specialists regarding his every need. By the Grace of God we are privileged to witness literal miracles occur as he achieves milestones slowly but surely. Don't get me wrong, every single day is a challenge. But to watch Elliot's incredible progress makes every effort worth it. He is becoming more and more mobile every day, gaining strength and control in his gross and fine motor skills. He is healthy, thus far avoiding any seizures. We understand what a tender mercy this is. and do not take it for granted. Only 1 out of every 10 children with Lissencephaly will make it to their first birthday without developing seizures. If only 1 out of every 100,000 children is born with Lissencephaly and only 1 out of every 10 children with Lissencephaly makes it 12 months without developing seizures then this means that in just a few short weeks our Elliot will literally represent 1 in 1 million.
Most importantly, however, Elliot is happy and thriving. He is the sunshine of our family, bringing us closer together and giving us the opportunity to experience a depth of joy we have never known before. From the bottom of our hearts we would like to thank our support system for standing with us side by side in Elliot's journey. Our friends, family, and our faith in God have sustained us and will continue to sustain us as we do everything we can to give Elliot the best life within our power. Grants like the one Elliot is receiving from CNF are no small part of achieving that and we are so grateful to have this opportunity.
We hope that by sharing Elliot's story we will also be able to help and empower other families who might be setting out on their own unexpected journeys. We know this can be scary. There will be moments when you feel like you have been hit by a tsunami. You will gaze at your child and wonder if you are capable of being the mother or father that your baby needs. But we can promise you this:  there is help and hope and happiness in store for you and for your little one. Keep trying, don't give up! Your baby will amaze you! Just give them every bit of opportunity in your power and fill them up with love. Then get out of their way and prepare to witness miracles." – Brittany
Anyone who would like to follow along with Elliot's progress can do so on Facebook and Instagram by searching Elliot the Mighty.